Custom Food Reserves Unit

Now that I'm partnering with the Founder of AlpineAire Foods,
"Be Prepared" is more than an oath, it's an obligation to help others.
We have combined our expertise to supply you with a
bulk discounted Custom Food Reserve package with
free shipping and other bonuses for a limited time.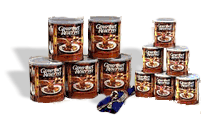 2 years for 1 person (or 1 year for 2) -- 1,425 lbs food
This is a custom unit from AlpineAire Foods
developed exclusively for UltraMedics Services™.
288 #10 size (approximately 1 gal.) specially sealed cans,
approximately 2040 calories/day/person,
50% no cook feature
- $5,225.00
FREE shipping (currently at 2-4 weeks).
· A bonus for those who order now -- purchase the leading probiotic digestive aid at wholesale.
As you know, it's not what you eat -- but what you assimilate that matters.
This bonus increases the value of food reserves immensely.
· Those who order now can also purchase the Berkey Light Water purification system for $145 dollars
(retails for $209) - a huge savings if you do not have a back-up system for pure drinking water
Entrees

# Count

lbs-oz

Mountain Chili

1

2lbs-04oz

Mushroom Pilaf with Vegetables

1

2lbs-10oz

Potatoes & Cheddar with Chives

2

2lbs-04oz

Santa Fe Black Beans & Rice

3

2lbs-07oz

Spaghetti Marinara with Mushrooms

3

2lbs-12oz

Forever Young Mac & Cheese w/Veggies

1

2lbs-7oz

Soups

# Count

lbs-oz

Alpine Minestrone Soup

1

2lbs-03oz

Creamy Potato Cheddar Soup

1

2lbs-08oz

Kernel's Corn Chowder
Multi-Bean Soup

2
1

1lbs-8oz
2lbs-3oz

Breakfast

# Count

lbs-oz

5-Grain Instant Cereal

2

3lbs-07oz

Blueberry Honey Granola with Milk

4

1lbs-10oz

Granola, Fat Free

12

3lbs-00oz

Fruits/Desserts

# Count

lbs-oz

Apple Almond Crisp

2

3lbs-02oz

Apple Flakes, Unsulfured

4

2lbs-04oz

Apples, Diced, Dehydrated

3

1lbs-08oz

Date Pieces

3

3lbs-08oz

Dairy/Eggs

# Count

lbs-oz

Cheddar Cheese Powder

1

2lbs-04oz

Couscous, Pre-Cooked

4

4lbs-08oz

Instant, Nonfat, Dry Milk Powder

22

2lbs-00oz

Scrambling & Omelet Eggs Mix Powder

3

0lbs-08oz

Beans/Grains/Peas

# Count

lbs-oz

Cornmeal

12

4lbs-04oz

Lentils

12

5lbs-00oz

Lentils, Dehydrated

5

2lbs-00oz

Oats, Rolled, regular

14

2lbs-08oz

Pasta, Instant

5

1lbs-08oz

Pearled Barley

12

5lbs-04oz

Pinto Beans

12

4lbs-04oz

Pinto Beans, Dehydrated

5

2lbs-00oz

Rice, White, Cooked, Instant

4

2lbs-00oz

Rice, White, Long

20

5lbs-04oz

Split Peas, Green

12

5lbs-04oz

Textured Vegetable Protein (TVP)

6

2lbs-00oz

Wheat, Hard

24

5lbs-00oz

Oat, Baby Flakes, Instant
Barley Flakes, Instant

4
4

2lbs-40oz
2lbs-00oz

Vegetables

# Count

lbs-oz

Carrots, Diced, Dehydrated

4

1lbs-15oz

Corn, Sweet, Freeze-Dried

4

1lbs-00oz

Onions, Chopped, Dehydrated

2

1lbs-14oz

Peas, Freeze-Dried

4

1lbs-00oz

Potatoes, Diced, Dehydrated

5

2lbs-00oz

Potatoes, Mashed Instant

6

1lbs-00oz

Tomato Powder

2

3lbs-12oz

Vegetable Mix

5

1lbs-08oz

Snacks: RTE

# Count

lbs-oz

Cheese Spread - 1 ounce pouches

3

2lbs-06oz

Peanut Butter-pouches 1.12 ounce pouches

3

2lbs-06oz

Royal Kreem Crackers

16

1lbs-01oz

Other

# Count

lbs-oz

Honey, Pure

5

5lbs-00oz

Sea Salt

2

7lbs-00oz

Totals

288
This Exclusive GeoNotes Custom System is 50% no-cook
Retail $5,225.00 ¸ 365 = $14.32/day for 2
$5,225.00 ¸ 730 = $7.16/day for 1 for 2 years
$5,225.00 for the 2 years for 1 person Custom Unit
$145.00 for the Berkey Light
(for those ordering this Custom Unit)

Call in orders at 406/333-4274
(9-6:00 Mountain Time Mon.-Sat.)
Back to Food Reserves Home Page